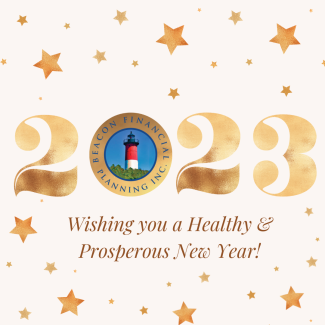 2023: "The First Wealth is Health"
As we head into the New Year with a fresh start, we want to remind you that "the first wealth is health," quoted by Ralph Waldo Emerson. Here are some financial benefits of living a healthy lifestyle:
Exercise is Free: There are so many free resources that you can take advantage of. Go for a run or walk, try some yoga or pickleball! We understand you may need to purchase new clothes, sneakers or a gym membership, but try to look at the expense as an investment to your overall well being.
Save Money on Medical Bills & Insurance: Staying healthy will save you money on medical costs in the long run.
Boost your Confidence & Brain Power: Exercise has proven to boost your confidence and overall attitude. Eating foods that are rich in zinc, omega fatty acids and other nutrients will help your brain to operate at it's highest capacity.
Increased Productivity: If you establish healthy habits, you will have the energy needed to continue working and being productive later in life.
We understand that there can be many challenges, especially if you are busy, but we recommend starting with small steps that are attainable. Strive for progress, not perfection! Stay tuned for our "Health is Wealth" Initiative coming Spring 2023!
---
Ham & Cheese Sliders: These delicious ham and cheese sliders are perfect for any celebratory occasion!
Ingredients:
3/4 cup melted butter
1.5 tablespoons of Dijon mustard
1.5 teaspoons of Worcestershire sauce
1.5 tablespoons poppy seeds
1 tablespoon dried minced onion
24 mini sandwich rolls
1 pound thinly sliced cooked deli ham
1 pound thinly sliced swiss cheese
Directions:
Preheat oven to 350 degrees and grease 9x13 baking dish.
Mix butter, mustard, Worcestershire sauce, poppy seeds and dried onion in bowl.
Separate tops and bottoms of the rolls, arrange bottom pieces in a layer in dish. Layer half of the ham on the rolls, add layer of swiss cheese, then top with remaining ham. Place tops on the rolls. Pour mustard mixture evenly over the rolls.
Bake in oven until rolls are lightly browned and cheese has melted (approximately 20 minutes). Slice into individual rolls to serve.
---
Creating a New Year's resolution vision board is a powerful way to visualize all of the things you want to do and have in your life. It's a great visual reminder of your goals as you go into the new year and can help to hold yourself accountable.
Supplies:
Poster board
A stack of magazine
Glue sticks
Markers
Set your intentions. Remove all obstacles and imagine what is possible in your life.
Meditation. Quietly sit and reflect the intentions you have identified.
Hands-on design. Go through magazines and tear out images, phrases and words that speak to you. Glue them to your board. Add your own words or draw pictures as needed.
Speak aloud. Once you have completed your board, step back and study it. Speak your intentions out loud and make a commitment to live out these intentions.
Display. Hang your vision board in your home or office - somewhere you will see it as a daily reminder of your goals for your life.
---
Please note that our office will be closed on Monday, January 2nd for the New Year's Holiday. We will follow-up with you promptly on Tuesday, January 3rd.
If you have any immediate cash needs or additional requests, please call our office at 508-790-7039.
As always, we are here to talk through any questions or concerns you may have.
Wishing you a healthy and prosperous New Year!
Your Team at Beacon Financial Planning