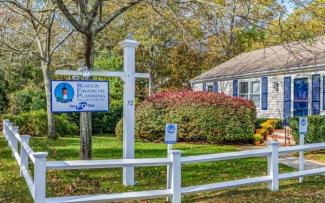 All-Female Financial Planning Firm in Hyannis Guides Clients with Compassion and Confidence
September 22nd, 2020
In the late 80s, Linda Gadkowski was looking for a financial planner to help her family plan for their future. Unable to find an advisor who was not trying to sell them insurance or an annuity, she saw a glaring need for objective advice and, as a result, founded Beacon Financial Planning in 1990.
Today Beacon Financial Planning of Cape Cod is run by a compassionate team of professional women continuing Linda's mission. They recognize the challenges clients have faced to build their wealth and are committed to helping them preserve it.  From the moment you enter their office you feel at home. Current Owner and President, Michaela Herlihy, shares "We are building a team of leaders.  Each understands the importance of learning about our clients and connecting with them beyond finances, building a relationship where our clients know we have their backs.  When someone engages with our firm, they become part of our family."
The all-female team collaborates with clients to dig deep into their goals. "Our first job is to listen," says Kelli Grew, CFP and Investment Committee member. "Planning is about our clients' needs, not our own. I love delivering highly-personalized service and building long-term relationships with my clients." Kelli has over 9 years of experience and is currently taking on new clients who are seeking one-on-one investment guidance, wealth management and income strategies.
Katie Brennan Kane, Vice President of Operations and Client Services, relocated from New York to Cape Cod looking for a career where she could have a direct impact on the lives of those she served.  Committed to excellence, she has designed policies and procedures to ensure accuracy while adding a special touch to help hold clients' hands.  Katie is an Investment Committee member and is currently pursuing the Chartered Financial Analyst® (CFA®) designation.  She is excited about what they have accomplished, "Clients know we have great appreciation for the wealth they have built, we enjoy hearing from them, and we love being part of their team of professionals."
You may recognize Melissa Kolcz (Ellis) from the Cape Cod Baseball League or Cape Cod Young Professionals (CCYP).  When looking to make a career change, she was looking for an organization that was committed to the health of the community.  "I saw what Beacon was doing and quickly understood that when you invest in Beacon you invest in our local community." This year alone the firm has donated over $34,000 to nonprofits here on Cape Cod.
Alina Leon, the team's newest member, is currently pursuing the CERTIFIED FINANCIAL PLANNER™ (CFP®) designation.  She moved from Ukraine to the US in 2012 in pursuit of a new career path. Her hunger for knowledge makes her a wonderful compliment to the team.  Alina shares, "Just as the team makes time to mentor me, they use that same education-first approach with clients to empower them."
Both Herlihy and Kolcz (Ellis) were previously recognized by Cape and Plymouth Business Magazine as one of the Top 40 Professionals Under the Age of 40 (in 2014 & 2015) and are alumni of Leadership Cape Cod (previously Community Leadership Institute).
Beacon Financial Planning's mission is to build a lifelong partnership with their clients and act as a sounding board during life transitions. They provide holistic fee-only financial planning and investment strategies utilizing top notch technology to tailor advice for their clients based on their goals. Importantly, they help clients clearly understand the many moving parts of their financial plan by turning complex concepts into easy-to-digest bites. This is a team committed to making the financial planning process an enjoyable and stress-free experience. You've earned it, let Beacon Financial Planning help you preserve it.