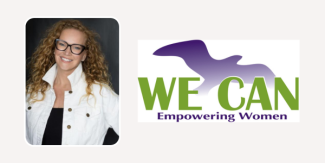 Michaela joins WE CAN's Board of Directors
We are thrilled to announce that Michaela Herlihy, Certified Financial Planner and President and CCO of Beacon Financial Planning, joined WE CAN's Board of Directors.
Susan Lloyd, WE CAN's Board President, says, "We are so pleased to have Michaela Herlihy as our newest WE CAN board member. Michaela brings not only financial expertise, but also diverse relationships with people, organizations, and communities - especially in the mid-Cape, which is so important to us as our new Hyannis facility grows in its ability to serve more women on Cape Cod."
Michaela is passionate about coaching her team to assist clients in establishing sound financial solutions to help them realize their dreams. "There's a great sense of satisfaction when clients share their confidence in the plan we have developed together, noting with their financial house in order they can focus on that which brings them most joy."
Equally important to Michaela is connection with her community. She has been involved with different non-profits since 2013. She not only volunteers with WE CAN, but is also a cheerleader for Calmer Choice and the Community Leadership Institute of Cape Cod. Michaela appreciates WE CAN's mission to empower women and is excited to strengthen her commitment as a Board Member.
When she is not working with clients or volunteering, Michaela enjoys pickleball, cooking for friends and family, cycling, and exploring the Cape's gorgeous beaches and trails.