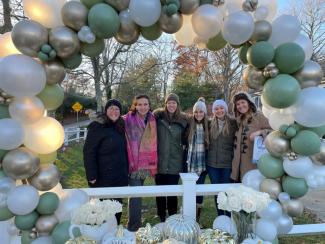 Need some holiday inspiration?
As we reflect on 2021, our thoughts turn gratefully to our clients with warm appreciation. We know the past 2 years have been difficult and we truly appreciate the trust you put in our team.
---
 We welcomed Kelli to the Beacon team in 2019 as a CERTIFIED FINANCIAL PLANNER™. Kelli is now the lead advisor for over 170 households and has over 10 years of experience. Kelli loves to work with her clients by turning financial concepts into easily digestible lessons. She empowers her clients to make financial decisions by looking at the big picture, reminding them of their goals and removing emotions from the process.
Kelli is a member of the Beacon Financial Planning Investment Committee, serves as the Vice President on the Estate Planning Council of Cape Cod, and recently joined the Board of Directors for Calmer Choice. We are so honored to have Kelli on our team!
---
Despite these challenging times, charitable giving has been higher than ever. We are fortunate that many of the individuals and families with whom we work are inclined to give back to our amazing community.
Click here to check out our recent blog with some tips below on how to maximize your charitable giving and lower next year's tax bill.
---
These Tortilla Roll-Ups are the perfect holiday recipe. Stacked into a tree shape and served with salsa, they are an easy to make, crowd-pleasing snack.  Ingredients: cream cheese (2 packages softened), ranch dressing mix (1 package), pimentos, green chilis, black olives, green onions, yellow pepper, cherry tomatoes, shredded cheese, green flour tortillas, and salsa
Click here for a link to the full recipe
---
 Looking for a festive and delicious drink recipe for the holidays? This cozy drink tastes just as good as it looks.
Ingredients: apple cider, cinnamon sticks, cloves, allspice berries, whole nutmeg, and star anise. Optional: take it to the next level by adding some rum and making a spiked mulled cider!
Click here for a link to the full recipe
---
- A Moonjar Moneybox - Help teach children about money by giving them a moneybox to save, spend and share.
- Contribute to a 529 college savings plan - one of the best gifts for kids is to help them save for future college costs.
- Give an experience - children will never forget the memories made by a unique experience. Here are a few ideas; museum memberships, art or cooking class, theater tickets, etc.
Holiday Hours: Please note that our office will be closed on Friday 12/24 and Monday 12/27 for the Christmas holiday. We will also be closed on Friday 12/31 and Monday 1/3.
As always, we are here to talk through any questions or concerns you may have. Thank you for your continued trust.
Wishing you and yours many blessings this holiday season!
Your Team at Beacon Financial Planning