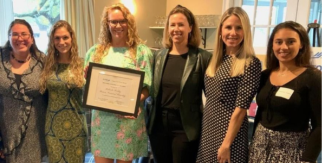 Press Release: Katie Brennan Kane and Kelli Grew earn partnership at Beacon Financial Planning, Inc.
Hyannis, MA  May 30, 2023  Press Release- for immediate release 
Beacon Financial Planning, Inc, a wealth management firm providing investment management, financial planning, and estate and tax coordination announces the promotion of Katie Brennan Kane and Kelli Grew to Partners. They will continue to lead initiatives to continue the company's core values of compassion, collaboration, trust and integrity. 
"We are proud of the hard work and dedication these two have demonstrated, gaining invaluable experience that will serve them well in their new roles. Both women share my passion for financial planning and penchant for client service" said Michaela Herlihy, President at Beacon Financial Planning. "Their combined keen eye and diligence regarding the financial landscape, makes me confident that our clients' financial needs will continue to be served extremely well with Katie and Kelli at the helm of our team."
As Vice President of Operations and Client Services, Katie Brennan Kane has been an integral part of creating the policies and procedures of the firm. She will continue to lead the Operations Team and serve on the Investment Committee. Katie shares, "I'm very proud of my nine years at Beacon. Our partnership has truly grown from a place of shared ideals for the success of our firm, our team members as well as the financial success of each one of our clients. I'm excited to remain a steward of those ideals for many more years to come."
Kelli Grew, CERTIFIED FINANCIAL PLANNER™ is the Vice President of Financial Planning.  Kelli will continue to lead our Advisor team, serve on the Investment Committee and service clients in her Advisory role. Kelli shares, "This is a dream come true. Clients walk through our door and share such personal details about their lives and goals. This is one way I'm committing back to my clients; by solidifying my role here at Beacon and showing that I'll continue to walk with them through their financial journey."
The entire team at Beacon believes that making clients' quality of life as rewarding as possible is of equal importance to recommending appropriate investments. They look forward to their continued relationship with clients and are confident that Katie and Kelli will continue to be incredible leaders.
###