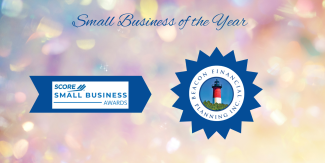 SCORE awards Beacon Financial Planning as Small Business of the Year
For Immediate Release
Contact: Marc L. Goldberg
Phone: 508-740-4820
Email: marc.goldberg@scorevolunteer.org
Website: capecod.score.org
Celebrate with SCORE Cape Cod & the Islands at the 29th SCORE Small Business Awards
We are back live. The 29th Annual SCORE Small Business Awards will be held on October 26th at 8:30AM at Family Table Collaborative (old Riverway Lobster House)  SCORE Cape Cod & the Islands recognizes the outstanding businesses of 2022.  SCORE will honor their Small Business of the Year (Beacon Financial Planning, Hyannis), Non-Profit of the Year (Martha's Vineyard Center for Education and Training) and Small Business Champion (Cape & Plymouth Business Media, Hyannis) while the Chambers of Commerce will each recognize their town's best with the Business Excellence Award.  And this year, SCORE will be featuring a panel who will address the issues facing small business on the Cape & Islands. Panelists will be: Tim Kelleher, CC5, Tammy Glivinski, Glivinski Associates, Kathy Demeyer, Encore Constructions and Beth Marcus, Cape Cod Beer.  The panel discussion will be moderated by Susan Chandler, incoming Chapter Chair. 
Beacon Financial Planning is an all-female cutting-edge financial planning firm making waves in a historically male dominated industry. They take great joy in helping their clients prepare for & thrive in retirement by making sure they don't outlive their assets.  Compassion, collaboration, trust and integrity are at the core of Beacon's business model with a focus on exceptional client service
Martha's Vineyard Center for Education and Training (previously ACE-MV)  Martha's Vineyard Center for Education & Training is the only Island organization providing education and learning opportunities to post-secondary education individuals on MV. The areas offered include: Business & Technology, Trades, Healthcare, Education, Arts & Entertainment and Hi-Set prep. Cape and Plymouth Business Media is Cape & Plymouth Business is the only monthly business publication serving Cape Cod, the Islands, Plymouth County and the South Shore in Massachusetts. They support the nonprofit community by publishing the Giving Guide and are event producers of Enterprising Women, 40 under 40, Best Places to Work and the Marketing Summit. 
The business community overall has rallied to support this exciting event with Cape Cod Five as the presenting sponsor. They will be joined by many others businesses and lending institutions at the October 26, 2022 event. 

SCORE, a resource partner of the U.S. Small Business Administration, is a nonprofit association dedicated to helping small businesses get off the ground, grow and achieve their goals through education and mentorship. The Cape Cod & the Islands chapter was founded in 1970 and is staffed by volunteer counselors. For more information on SCORE, our workshops or to schedule free one-on-one counseling visit our website www.capecod.score.org, send an email to capecodscore@verizon.net or call 508-775-4884.