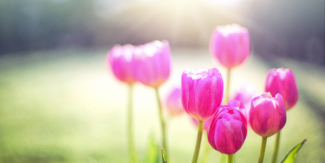 Spring Updates from the Beacon Team
We hope this letter finds you healthy, happy, and gearing up for Spring! We are excited to announce that Beacon Financial Planning was awarded as a Cape & Plymouth Business Media 2022 Watchlist Honoree. Thank you to everyone who voted for us. Our team was extremely grateful to be in a room filled with local non-profits and businesses who are all committed to giving back to the community.
Click here to listen to Michaela Herlihy and Katie Brennan Kane talk with Chuck of Plymouth Rock TV.
---
Many of you have probably already met a new friendly face when you've come to our office. Jayme Rose-Franklin is our new Office Manager who will be handling all of our scheduling and making sure your service experience with us is remarkable.
Jayme is also a member of the Kiwanis Club of Hyannis who hosts many fundraising events to help raise money for children in our local community. Jayme lives in West Yarmouth with her husband and her two young daughters. In her free time, she enjoys baking, the beach, movie nights with friends, and admiring the beautiful cape cod sunsets.
We are so proud to welcome Jayme to the Beacon Family!
---
Lauren Lindsay, CFP® at Beacon Financial Planning, published an article on how 'Raising Money-Smart Kids Safeguards Parents' Retirement.'
"During my 24 years as a financial planner, I have seen parents make choices that compromise their retirement or future financial goals. While it is challenging to tell clients how to parent, I believe that as advisors it is our job to advise in matters of money, since we have so much insight in to the relationship between money and family dynamics."
Click here to read Lauren's "Dear Parents, please protect your retirement" Lessons featured in Rethinking65.
---
Annual CARE for the Cape & Islands Day on 5/11
CARE for the Cape & Islands Day is an annual event that invites volunteers from the business community to participate in a half day of service and education. Beacon Financial Planning is a proud sponsor of this year's event at Yarmouth New Church on May 11th. 
Click here for more information
---
During periods of extreme volatility, emotions can often interfere with reason. Investors may be tempted to take control in a way that is likely to be detrimental, selling out of the market after a significant drawdown – and locking in losses – with a plan to re-enter when things feel "safer."
This behavior is driven by "loss aversion" – the desire to avoid additional losses because losses feel more painful than gains feel good. Or as Larry Bird put it more succinctly, "I hate to lose more than I like to win." The best secret weapon an investor can have in this climate is the knowledge of how closely the best days often follow the worst, and how important those good days are to the recovery of a portfolio.
The chart below helps to explain this concept, illustrating its worst-case outcome. It compares the returns of an untouched $10,000 investment in the S&P 500 over the past 20 years to a return that is impacted by missing some of the best days because of premature selling. Look at what even missing the 10 best days in the market can do to the overall value of that portfolio! 
All these concepts are easy to understand in theory, but we understand it's very different in practice. Thank you for your continued trust as we help guide you through these periods of volatility. As always, we are here to talk through any questions or concerns you may have.
With gratitude,
Your Team at Beacon Financial Planning