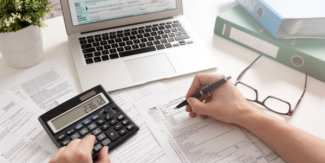 Tax deadline is quickly approaching!
We hope you are doing well and staying healthy. Spring is here and we are looking forward to sunnier days ahead. With tax season among us, we wanted to share this tax preparation checklist to help ensure that filing taxes is easy and stress free. As a friendly reminder... we are NOT CPA's and recommend that you contact your tax professionals for any tax related inquiries.
#1) Schedule an Appointment with your CPA - if you need a referral, please give us a call and we are happy to share some trusted professionals.
#2) Gather All Documents (Forms/Receipts/etc.)
Employment & Income Forms (W-2, 1099 Forms)
Schwab's Tax documents are available for download via our Advyzon Client Portal. Click here to login to our Client Portal. The Beacon Team is happy to share your Schwab Tax documents securely with your CPA. Please contact us and we can make sure we have a Permission to Disclose on file for future requests.
Deductions (retirement account contributions, health insurance payments, childcare expenses, mortgage interest, charitable donations, etc.)
Business Owners (tax ID, business income and expenses, mileage logs, insurance premiums)
If you are using a new CPA, it will be helpful to provide a copy of last year's tax return.
#3) IRA Account Contributions - You can make 2021 IRA contributions until your states tax filing deadline (not including extensions). For Traditional and Roth IRAs, if you were age 49 or younger in 2021 you can contribute up to $6k and if you are 50+ you can contribute up to $7K. For SEP IRAs, please consult with your CPA for your maximum contribution limit and deadline for contributing.    
#4) Plan Ahead for Any Refund - If you expect a tax refund and have no cash needs within the next 12 months, call us to talk with your advisor about investing in line with your overall strategy.
#5) Prepare for Next Year's Tax Filing - It's never too early to plan ahead and reduce your liability for the upcoming year. If you have a large tax bill or an unusually large refund due, consider changing your tax withholdings. It's also helpful to have a very organized filing system to store receipts and any other information that will be useful in filing income taxes.
As always, we welcome you to call us with any questions or concerns. We are always collaborating with your CPA's to make sure we are acting together in your best interest to preserve and protect your wealth in a tax efficient manner.
With gratitude,
Your Team at Beacon Financial Planning