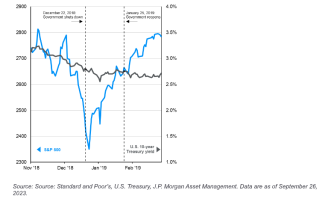 What happens IF the US Government shuts down?
After well over a year of anxiously anticipating an economic recession, the U.S. economy continues to look fundamentally sound. However, there are several risks on the horizon this Fall: impacts from the UAW strike, rising oil prices, the resumption of student loan payments and the potential for a government shutdown starting this weekend.
This Saturday, September 30th, marks the end of the fiscal year, but Congress has not passed all twelve appropriations bills required to form the new fiscal budget to fund the government. Unless this is finalized by tomorrow or a continuing resolution, or extension, is passed, the government will shut down until compromises can be reached.
There is a very important distinction to remember here: a government shutdown does not equate to a default, like the debt ceiling standoff could have, and not every federal agency will be affected. Treasury auctions would continue, interest payments would be made, Social Security and Medicare benefits would be paid and essential federal workers like air traffic controllers and law enforcement would still come to work.
However, a shutdown would mean select non-essential federal agencies would temporarily shutter and furlough their workers, and key data releases could be delayed, like the jobs report and CPI, which are critical inputs for the Fed's November 1 meeting, where they are expected to raise rates again after their latest pause.
Still, history shows that the economic and market impacts of a shutdown could be limited. In total, there have been six partial or full government shutdowns since 1990. While some were resolved in less than a week, the longest government shutdown in history was the most recent - 35 days from December 2018-January 2019. As illustrated in the chart below, yields fell as uncertainty mounted, and the S&P 500 corrected sharply in the short-term. Over the course of the month of January and into February 2019, the market recovered its losses.
From an economic perspective, the Congressional Budget Office estimates that the 2018-2019 shutdown cost $11 billion and reduced real GDP by 0.3%, but about $8 billion was recovered once activity resumed. Roughly 800,000 federal workers were furloughed or worked without pay. However, impacted workers did receive backpay once the government reopened.
Because economic and market impacts of a potential shutdown would likely be limited, it does not warrant portfolio changes in the near-term. And history supports our cautious optimism: according to data from Ned Davis Research, when a shutdown has lasted longer than nine days, the S&P 500 has on average declined 0.7% in the month following and added 2.8% in the three months after.
We understand that current market & economic uncertainty can be unnerving. Please reach out to us with any questions or concerns you may have. We're here and happy to help!
Thank you for your trust,
The Beacon Financial Planning Team
Sources:  Meera Pandit, Global Market Strategist at JPMorgan, "What happens if the US government shuts down?", Bailey Schulz and Daniel de Vise, USA Today, "What happens to the stock market if the government shuts down? The dollars and cents of it.", CNN Business' Before the Bell newsletter, Peter G. Peterson Foundation via pgpf.org and marketwatch.com