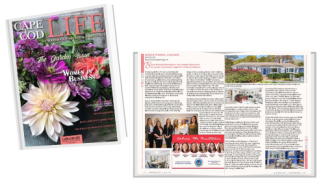 Cape Cod Life - Focus on Women in Business April Edition
Beacon Financial Planning is a true example of the power in a group of passionate, supportive women in business.
Female founded in 1990 and currently female owned and operated, Beacon Financial Planning is a cutting-edge firm making waves in a traditionally male dominated industry. With their core values of compassion, collaboration, trust and integrity at the root of it all, the firm serves their clientele with a highly personal touch. As a woman led business, their supportive growth mindset empowers one another within the organization, which in turn strengthens every aspect of the firm, including their client services. Under the leadership of President & CCO Michaela Herlihy since 2015, Beacon Financial Planning continues to support its clients and employees for the long run.
Beacon Financial Planning offers full financial planning with investment management, believing both pieces are heavily integrated with one another. Their services involve constructing a diversified portfolio for clients alongside a strategic financial plan focused on long-term goals. "One of the big things we do is coaching clients to have realistic goals. For all of us, it's about that connection with the client. I want to know the whole picture. Finance is only one part of the equation, you have to know the values of each client," Herlihy comments. Katie Brennan Kane, Vice President, Operations & Client Services, strongly believes in the connection between their values and service. "We offer extremely comprehensive service. This ties into our core values as a firm because we don't believe we can do the investment management piece without the holistic financial planning. We marry the two really well," Brennan Kane shares.
The Beacon Financial Planning team understands that serving the client is at the center of everything they do. What distinguishes the firm is the personal element instilled within each client relationship. "When prospective clients call us, it's typically because there has been a big event in their life. Right out of the gate, we start the conversation with a personal one-on-one tone. We distinguish ourselves with that human connection. It's very much who you are as an individual, what are your goals, what is your timeline for these goals, and how can we help you? Michaela always says we sit on the same side of the table as our clients, and it's true because we're fully invested in them," Brennan Kane says.
As stewards of their clients' goals, Beacon creates individual plans to enhance their futures. This personal perspective trickles down throughout the
company, from client services to operations. "All of these things we do really distinguish ourselves in the very buttoned up male-dominated industry," Brennan Kane notes.
Herlihy began working for the firm in 2005, and transitioned to a firm in Wellesley for six years before returning to Beacon Financial Planning. When she purchased the firm in 2015, Herlihy worked with Brennan Kane to grow their team from two to now six employees. Since the beginning of her ownership, everything revolved around a client first mentality, building policies and procedures around that base.
Under Herlihy, another key piece of the firm is promoting education within the team. Beginning her role at Beacon Financial Planning after a successful career in New York City, Katie Brennan Kane is now the VP of Client Services and Operations. Another of their employees is studying for the CFP exam this spring, and the entire team takes pride in mentoring one another as they grow. "Our team knows they can start somewhere, but the sky is the limit in terms of their career path based on what works for them. We also understand that as the business owner, we have to be flexible. I think one of the strengths in being a women-owned business is that if you give people the flexibility, the ROI is strong," Herlihy says.
As a woman-led business, empowerment is ingrained in their culture. "Just as we use compassion and collaborate with our clients, there's a lot of that compassion and collaboration within our team," Herlihy shares. For Brennan Kane, working for a strong female lead has shown her the strength in this support. "Under Beacon's leadership, each team member is encouraged to push themselves to new heights. Our clients get to see this group of women that really enjoy what they do," she shares. This compassion also spreads to the
community, as Beacon Financial Planning supports local non-profits like WE CAN and their mission to support women.
Studies show that women investors are more likely to focus on the long term and avoid lottery types of trading. This holds true for Herlihy and her team who prioritize truly listening to their clients to create a personalized plan for their future. "We are here to be a sounding board for our clients, and there's a lot of honor in that,'" Herlihy says. Moving forward in 2021, the firm has completely revamped their website and integrated new client facing technology to continue improving user experience. The team currently consists of 3 CERTIFIED FINANCIAL PLANNERS™ (CFP®), 1 CFP® candidate and 1 Chartered Financial Analyst® (CFA®) candidate. As a group of determined and professional women, it comes back to their compassionate culture and values that continues to drive Beacon Financial Planning to success.
- Cape Cod Life, April 2021 Edition, Focus on Women in Business, pg. 54 - 55