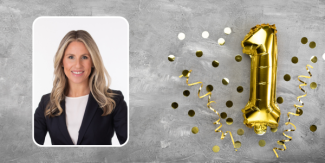 Heather Lynch Celebrates 1 Year Anniversary at Beacon Financial Planning
Friday, September 8th, 2023
We are proud to announce that our Financial Advisor, Heather Lynch, is celebrating her 1st Anniversary with Beacon Financial Planning!
Heather brings over 14 years of experience in the financial services industry. She works with individuals and families to provide comprehensive wealth management services designed to manage, sustain and grow their wealth across multiple generations. She shifts the focus from investments to advice beyond investing and makes the time to understand your needs and goals to create a custom, holistic financial plan for you. Her goal is to educate and guide you to make sound financial decisions throughout your life.
Heather earned her bachelor's degree from Northeastern University in 2008 with a dual concentration in Finance and Management. She earned her certificate in Financial Planning at The College for Financial Planning in 2021 and is currently studying to obtain the CERTIFIED FINANCIAL PLANNER™ designation. When not working, she enjoys the beach, spending time with friends and family, staying active and DIY home projects. Heather resides in Pembroke with her son Dylan.
"Getting to work with Heather has been such a pleasure. She is an essential part of our team here at Beacon and it's been a wonderful experience watching her build strong and meaningful relationships with our clients. Those who have the opportunity to work with her are lucky and in great hands!" ~ Kelli Grew, Partner and Vice President of Financial Planning.
Please join us in congratulating Heather on her 1st year with Beacon!